A Gripping Baby is a Happy Baby
Grasping toys that keep your baby busy exploring while feeding

Give your baby a soft plush animal to play with while feeding!
The Original Bottle Grabbies to help your baby exercise their grip and train to self feed
Attachable grasping toys connects to your baby bottle
Grasping will sooth your baby while feeding
The Original Bottle Grabbies to help your baby exercise their grip and train to self feed
Attachable grasping toys connects to your baby bottle
Grasping will sooth your baby while feeding
Detachable handles can ease transition to sippy cups
Testimonials

My daughter had a hard time holding a bottle on her own. The grabby handles were very easy for her to fit her fingers around. From there she was able to learn lifting the bottle up in no time. And she likes playing with the grabbies even when she's done feeding!

Brett B.
I was getting worried that my 9 month old is still not holder her bottles on her own and when I discovered these bottle grabbies, it changed everything. It made it easier for bub to grab her bottle. After 2 weeks of using, she can now hold her bottle on her own. I definitely recommend!

Hannah P.
These are so awesome. My 9 month old son uses them daily. They really help him have a good grip on the bottle. I like that we can use them on sippy cups as well. I'll definitely recommend these to friends and family!

Amanda H.
I've been looking for a product like this for a long time!! My son who is 14 months old has shorter arms and is determined to be independent! I feel like the Bottle Grabbies is perfect for him or any child with limb differences! I definitely think the wide hold/rings will help him hold his sippy cup independently and help him use both hands. I'm really excited about this product and I hope that it will relieve some of the frustration he gets when his sippy cup gets too far away!

Ashlyn O.
Bottle grabbies are awesome! It makes it easier for my 10 month old to hold his bottle to feed himself. I find the handles really good for developing coordination and grip. And when I gave it to Nolan, he knew what to do right away. I think this product is great, and everyone should get them for their little guys!

Taylor C.
Bottle Grabbies was a new fun way to help me bottle feed my child. It allowed her to keep her attention while feeding and the rings helped with her grip. I liked that the handles are not only helpful during feeding, we also used the handles while breastfeeding, during play time on her mat and even in the car to keep her occupied. Bottle Grabbies was like her own fidget toy. I was very pleased with my Bottle Grabbies and would definitely gift them to my friends as well.

Paloma D.
We Focus on Haptic Exploration
Our goal is to give you the tools to develop your baby's grip strength and dexterity early on, so they can independently perform the basic tasks they want to do all by themselves
Haptic Exploratory Procedures

Baby Grasp Types
As your baby develops their haptic perception, their hands will gain more dexterity from the ulna to the radius bone (or from pinky to thumb). See what grasps your baby can already do.     Learn More >

Baby Sign Language
One of the main reasons of how Finturely was founded was with Baby Sign Language. We want to help your baby develop their grip strength and dexterity, but also to put their new skills to use in a way that helps you, the parents.     Learn More >
3 steps to boost your baby's feeding routine
Learn how Bottle Grabbies can be a game changer for you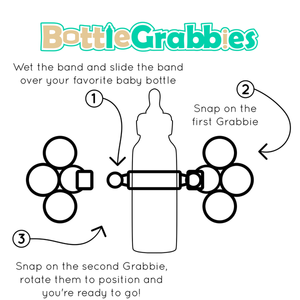 Importance of Haptic Habitation
What is haptic perception, haptic habitation and how do I make sure my baby develops this?

Experiments!
Look around our website for these yellow shaped symbols to take on the haptic experiments. Haptic exploratory procedures require your active curiosity and willingness to experiment. So give it a try!
The Bottle Grabbies Design
Take a closer look at how Bottle Grabbies was designed with moms and dads in mind
Shop Now
The Finturely Story
See how the beginnings of Finturely relates to your growing family
Like us on Facebook!
Journey through the evolution of our flagship product line Bottle Grabbies, informative and fun posts regarding haptic perception, baby self feeding and baby sign language and more!
We are really excited for this upcoming pre-order launch of our brand new product line called Bottle Grabbies! It's a...

Posted by Finturely on Tuesday, June 9, 2020